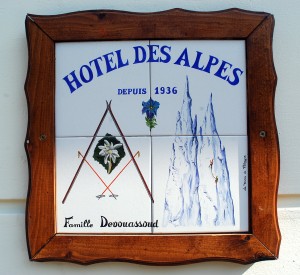 In a typically warm and family savoyard atmosphere, the H D A in Brides les Bains welcomes you, 200 metres from the Olympe Cable car which takes you to the largest ski estate in the world, the 3 VALLEYS ( Meribel, Courchevel, ValThorens)
Summer and winter alike come and make the most of your special offers and cuts on ski passes
Within your hotel, you will find a traditionnal cooking with regional specialities and a diversified list of wines . A menu adapted to a diet, in particular during a thermal cure or during a stay at a spa, is possible.
A private parking lot is at your disposal as well a ski storage .
26 modern and confortables non-smoking rooms are available summer and winter at the HDA, where a lift served all the floors.
All our rooms are equipped with a bathroom ( shower or bathtub) and with private lavatoty, LED televisios, hair-drier, WIFI and a direct phone

Brides-les-Bains is the village diet ®. The spa is a leader in the treatment of weight loss with 14 000 patients a year. Here cure rhymes with learning healthy diet.
Les Thermes de Brides-les-Bains® and Salins-les-Thermes are contracted for the following therapeutic indications: "Digestive and metabolic disease (AD) and" Rheumatology (HR). "
The village multiplies the events from March to October to boost the morale of his spa guests.
Objectives: the stay is a source of pleasure and discovery and lasting effects.
Each spa guest enjoys a "Passport Health". The booklet incorporates all factors that lead to weight loss. Presented by the spa doctor, he also wants a personal coaching tool to be better.
Brides-les-Bains, Savoie.
Directly connected to the 3 Valleys (Courchevel, Méribel …), the village offers the largest ski area in the world from Christmas to Easter to ski melted.